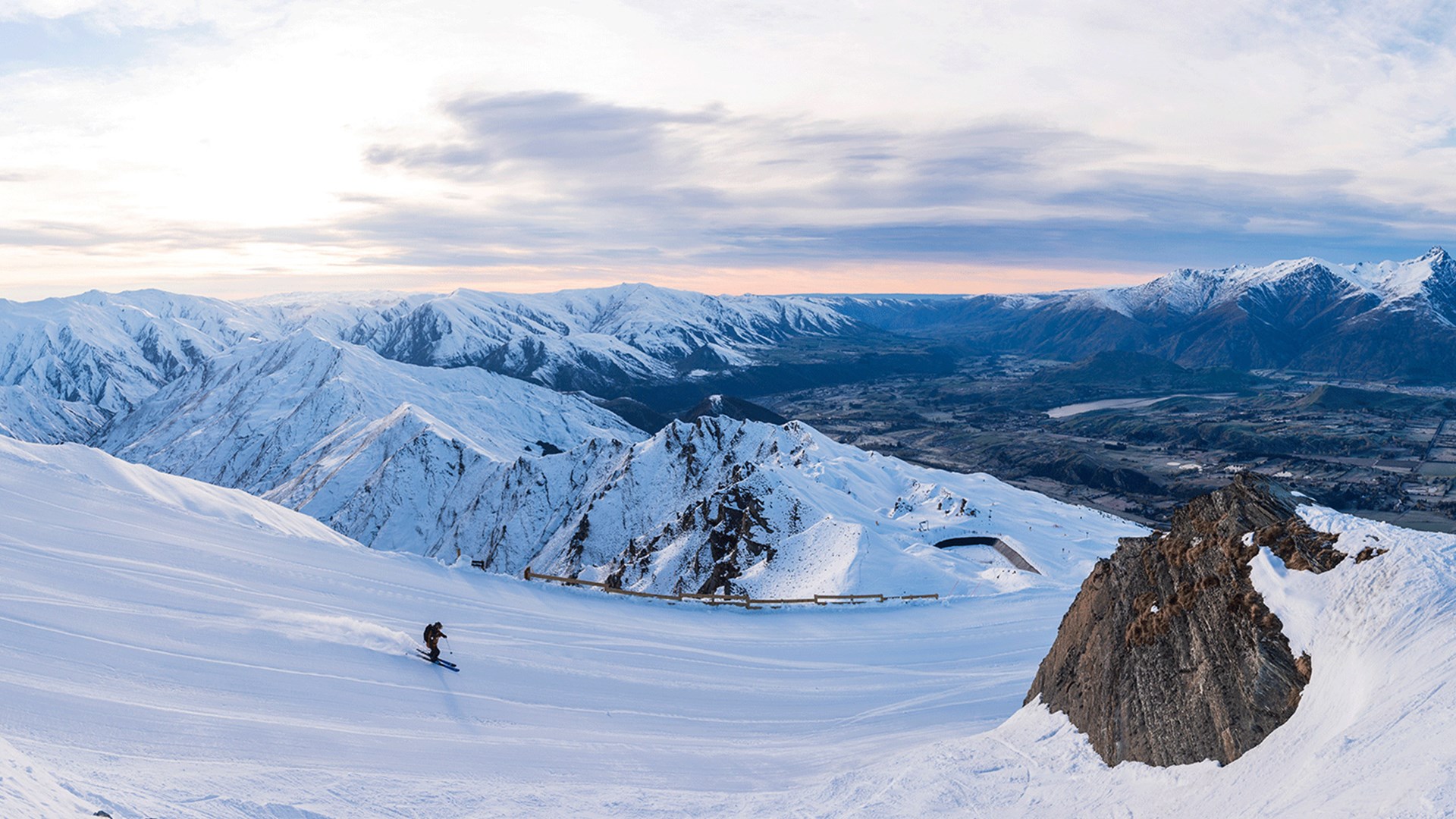 Sustainability and Environmental Enrichment
Sustainable Slopes
At NZSki, we take our corporate responsibility to conserve the natural environment very seriously across our three ski areas, The Remarkables, Mt Hutt and Coronet Peak. After all, our landscape is the backbone of our operations and the reason we love what we do.
We work to mitigate our environmental impact with waste management initiatives, conservation support projects, energy-efficient operations and on a larger scale by supporting important organisations such as Protect Our Winters.
National, global scale
Through our membership of The Mountain Collective, we are members of Protect Our Winters (POW), a climate advocacy group.  While their work is important to influencing policymakers to keep long-term environmental impact at the top of mind, we are focused on real tangible initiatives that make a difference on our ski areas.  
We have signed up to the Tourism Industry Aotearoa's New Zealand Tourism Sustainability Commitment. Of the 14 Commitments, four are focussed exclusively on a businesses' contribution to protecting, restoring and enhancing New Zealand's natural environment and biodiversity. This includes ecological restoration initiatives, and measuring, managing and minimising our environmental footprint, as well as education, which our mountains are achieving with the below-listed initiatives and operational management.
Partnering to bring back the birds
NZSki is partnering with Kea Conservation Trust, providing a sizeable charitable donation as well as helping raise funds and awareness about this endangered parrot that is native to our alpine environments at The Remarkables and at Mt Hutt.
At Coronet Peak, where the falcon is more common, a portion of funds will go toward enriching the environment for these birds, including ongoing native planting, plus trapping to capture predators.
This partnership goes much deeper than that. As part of our commitment to local schools we are also bringing them along on the journey, supporting them with funds to support kea conservation education within their curriculum, and engaging with them for trapping and native flora revegetation programmes.
We will also encourage and create opportunities for staff, our local community and guests to support this with voluntary planting, trapping and donations.
Conserving and enriching our alpine environment is something we all feel strongly about. This is a great way to put all our efforts into a single important focus which is keeping our precious birds here and helping sustain their habitat for future generations – theirs and ours!
On the mountains
Biodiversity
NZSki has established a strong record of enhancing the biodiversity on our ski areas through initiatives, including:
Weed and pest control
Hare control
Wilding pine eradication
Revegetation through propagation of the existing flora (eg. tussock seeding)
Wetland areas on our ski fields are preserved by creating terrain around them, or through relocation initiatives, for example removing small wetland areas, holding it safely and then replanting in the reinstated wetlands.
Waste reduction
We operate a strong policy of waste minimisation initiatives across our three ski fields, specifically in the reduction of food packaging waste, for example:
Removal of single-use plastic sauce portions replaced with re-fillable industrial size bottles
Encouraging the use of ceramics across all food and beverage
Providing compostable paper coffee and soup cups
Single-serve grab-and-go compostable cardboard holders
Recycling stations across food and beverage and recycling at back of house
Energy efficiency
We focus on lowering energy usage across our operations, for example, each one of our buses offsets 50-60 cars per day making it by far the most environmentally and economically sustainable form of transport to the mountains. This transport service is well in alignment with both the POW and TIA objectives with a newer, more efficient fleet that encourages the use of public transport.
Our new snowmaking technology is highly efficient too. For example, Coronet Peak's state of the art snowmaking system uses 95% recycled water sourced from high-altitude water storage reservoirs, which at 1200m above sea level keeps the water at about 0C, at least 20% more energy-efficient than from other sources.  And we're constantly investing in new equipment which runs more efficiently.
Passionate staff
Our staff have a genuine passion for the environment and this sets the foundation for what we can achieve in this area.  Across our fields, we have volunteers who assist with projects including waste sorting, replanting of native vegetation, wilding pine eradication and trapping for pests to protect bird wildlife.
For example, at the Remarkables, a formal committee meets every week to take action on improving education, waste management and environment conservation at the ski field, while at Hutt, a team of volunteers plant native trees for carbon offsetting. In 2017 Coronet Peak staff volunteers removed wilding pines (which are an introduced species), onsold them as Christmas trees with all monies being donated to a local charity.
Fairtrade and Better Cotton uniforms
Through our partnership with Kathmandu, our staff uniforms are socially and environmentally sustainable, and in some cases a mix of recycled cotton and virgin cotton.
A large portion of the crew collection is certified Fair Trade meaning these were manufactured by people receiving a living wage.
Kathmandu is also a member of Better Cotton Initiative (BCI) cotton, a non-profit global organisation that works with a diverse range of stakeholders across the cotton supply chain to promote measurable and continuing improvements for the environment, farming communities and the economies of cotton-producing areas.